The ultimate lunch in Paris should begin with the crème de la crème. Discover the beauty and elegance of Chef Alan Ducasse's Jules Verne Restaurant.
By MLiss A Hinshaw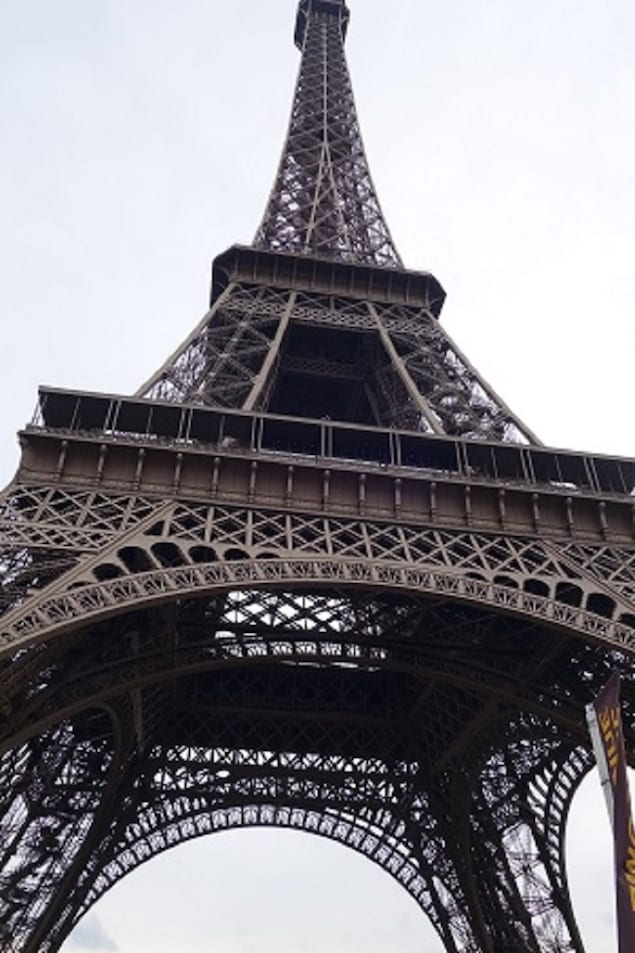 There are many places to dine and celebrate a special occasion in Paris, and the Jules Verne Restaurant is the crème de la crème.  Located on the second level of the Eiffel Tower, the entire experience would be clearly impressive.
Wanting to be on time for my friend's birthday luncheon, I arrived in a taxi and the driver pointed to the south entrance.  I was part excited and part in wonderment walking beneath this massive lattice steel work of art looking for the entrance.  A covered pathway with a bronze Jules Verne plaque led me into the entrance.  Once inside, it was rather dark and cramped, and I noticed a gentleman carefully checking names on the reservation list.  He allowed me to stand in line for the elevator which only goes to the restaurant.
The elevator attendant ushered about 8 people on board and announced we were going up 400 feet to the restaurant.  Not being keen on heights, I looked up instead of down, and it seemed the world renowned structure stretched into the clouds.  Reaching the restaurant, the staff were welcoming and invited me to take pictures. Each table had views throughout Paris which were magnificent.
Michelin Guide bestowed a star for the French cuisine inspired by Chef Alan Ducasse and this no doubt, would be a fanciful luncheon.
We started with appetizers of chilled pureed beets, lentils and mustard crème presented in a fashionable glass. Next, wait staff, exquisitely uniformed, yet friendly, served pan seared scallops with delicate watercress sauce veloute and lemon mousse.
The fish course was fennel coated salmon, potato stuffed with shallot compote topped with gold caviar and cone of potato mousse. As if I wasn't filled to the brim overlooking the most spectacular views of Paris, the meat course came to the table; medallion of veal crusted with Romano cheese and cumin accompanied by tender carrots simmered in orange marmalade and honey.
Multiple desserts too numerous to list except for the tray of miniatures and hazelnut ice cream added a very fine finishing touch to a magnificent dining experience.
Such a memorable event and never to be duplicated.  If you plan to go, make reservations far in advance and allow time to soak it all in.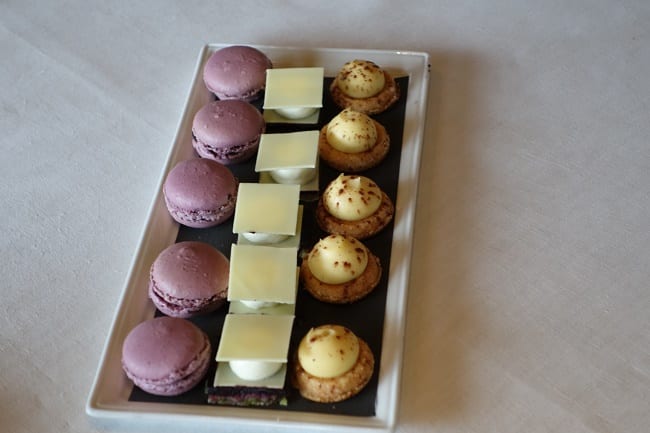 Originally Published: December 2, 2014 on Honestcooking.com