With map in hand, I set out to explore four bakeries to experience island indulgences and hopefully some unexpected trade winds surprises
By MLiss A Hinshaw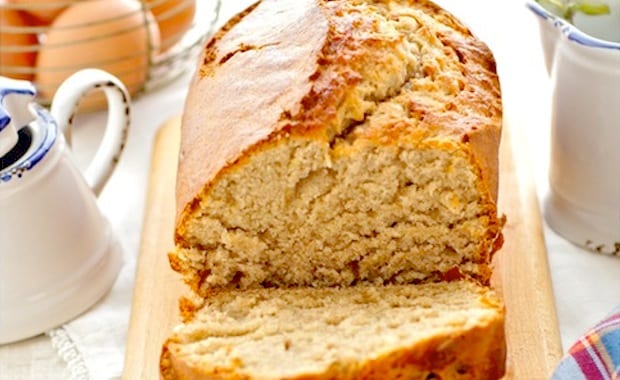 I often think of Hawaii as proud of poi and dishing out lots of fish and pineapple.  A drive around the island of Maui proved there's lots of sweet baking going on.  Oh yes, Hawaiians do love their sugary treats and there is much more to find than the popular Hawaiian bread and shaved ice in a paper cone with lots of syrup.
The Bakery 
991 D Limahana St, Lahaina, HI 96761
808.667.9062
Driving on Hwy 30, it's easy to spot "the bakery" sign with a French flag but it's tricky to find the place which may keep tourists away and leave more goodies for the locals.  Tucked behind an industrial building is where the bakery is located but if you blink, you'll miss it. The giveaway is the big, old Hobart stand mixer with plants in the mixing bowl near the entrance.  I made the mistake of arriving at 10 am on a Saturday and many of the favorite items were gone.  I was able to try a slice of long and thick French toast cooked in an egg custard and syrup gracing the top.  Not overly sweet and a creamy delicate texture, it was a definite winner among the donuts, cheese Danish, breads and chocolate croissants that has a loyal following.  Owner Keiko Hardcastle said after running the shop for 33 years, everyone has their favorites to supply their sweet needs.
Open Monday through Saturday 5:30 a.m. to 12:30 p.m. Cash and take out only.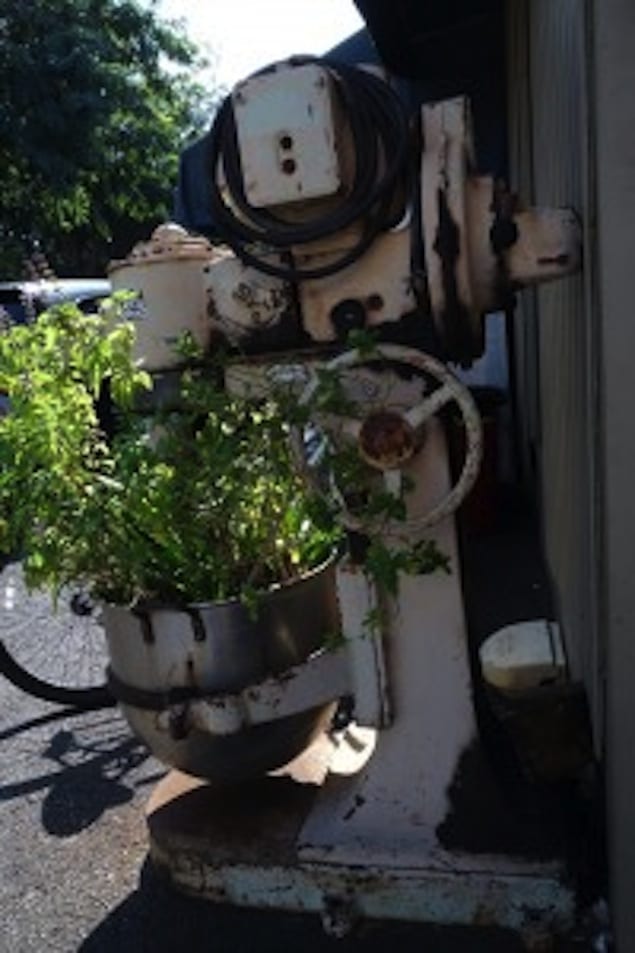 Leoda's Kitchen and Pie Shop 8
20 Olowalu Village Road, Lahaina, HI 96761
808.662.3600
This modern and sleek eatery resembles a Napa-Sonoma designed open kitchen with young employees baking, filling orders and waiting tables.  There are the usual lunch items of burgers, salads and sandwiches and while perusing the display case, I descended on an "apple hand held" commonly referred to as apple turnover. The crust was thick and buttery filled with chunky apples and a bit of cinnamon.  Soon the cream pies called my name and I scooped up coconut and banana cream pies, opting for a 3 inch mini of each. Wondering if it's the same filling in each pie with coconut added to one and bananas to the other, I inquired.  The person at the counter assured me no.  She was right, the banana filling was creamier with a true banana taste.
Next time, it's the savory pot pies and the chocolate macadamia pie on the radar map.
Open daily 7 a.m. to 8 p.m.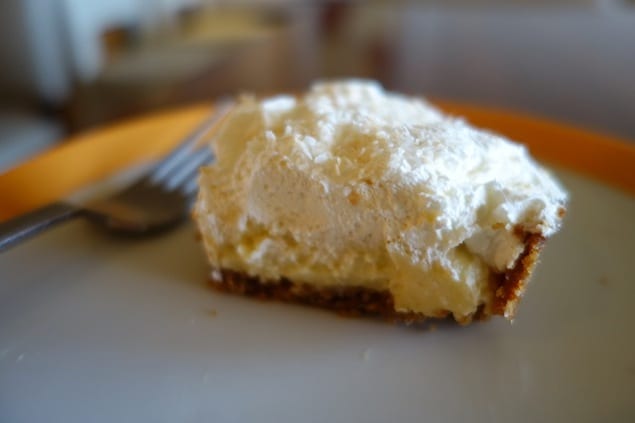 Four Sisters Bakery 
1968 East Vineyard St, Wailuku, HI 96793
808.244.9333
This town is where the government seats are located and also the bakery known for buttered rolls. The front of the building resembles rustic Hawaiian throwback days, but the kitchen is well equipped to produce yeasty cheese bread, malasadas and other tasty treats, many Filipino style.  Cheerful proprietor Arnold Magbual and his wife Marjorie churn out 70 dozen buttered rolls a day and 2,000 dozen for Thanksgiving.  My sugared malasada was light and puffy and banana bread moist and flavorful.
Open Monday-Friday  5 a.m. to 5:30 p.m. Saturday 5 a.m. to 3 p.m. Sunday 5 a.m. to 10:30 a.m.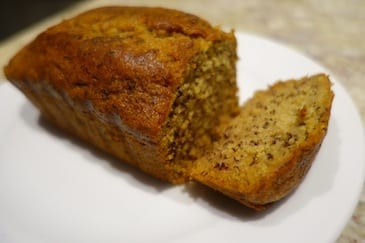 T Komoda Store and Bakery
3674 Baldwin Ave Makawao, HI 96768
808.572.7261
This bakery has had a loyal following for decades and I finally get to explore what the fuss is with the donuts on a stick.  It's like donut holes on a wooden skewer with surrounding glaze and when warm, even better.  Then came the cream puff which had a perfectly baked shell and filled with vanilla custard, more akin to thick vanilla pudding and no whipped cream.  Nevertheless, inhaled in a very short time.  Breads and other delights go quickly to those on their way viewing sunrise at the Haleakala Crater and zip lining.
Open Monday, Tuesday, Thursday and Friday 7 a.m. to 5 p.m. Saturday 7 a.m. to 2 p.m. Closed on Wednesday and Sunday.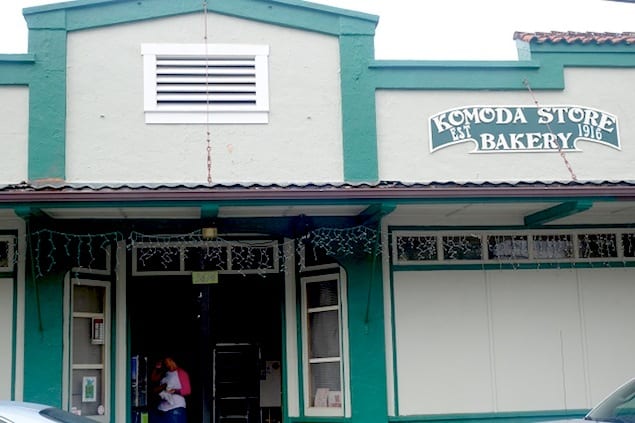 All the bakeries were reasonably priced, especially for Hawaii, and it's advised to call and check hours of operation before dreaming of that desired sweet treat.
Article first appeared on Honestcooking.com