Beaches, upscale food and wine joints and modern lodging only begin to describe Santa Barbara, California.  Formerly a haven for surfers and touted for its perfect blend of Spanish Mission Style architecture, today there's a mini-fascination with this "American Riviera" situated in Malibu's backyard. The charming community along California's Central Coast with a surfeit of palatial homes overlooking the sea offers resorts perfect for romance and relaxation while indulging in scenic surroundings.
Typically, one might zip right by this destination two hours north of Los Angeles off Highway 101, but with a plethora of activities and stupendous views of the Pacific, I think it's a must-see stop. Get oriented by climbing aboard the Hop On, Hop Off Trolley. The ubiquitous tour bus shows all the attractions and you can jump off at the Old Mission or the County Courthouse with its 80 foot clock tower that's perfect for panoramic picture taking. The trolley also cruises to the zoo, museums and the beautiful waterfront with Stearns Wharf.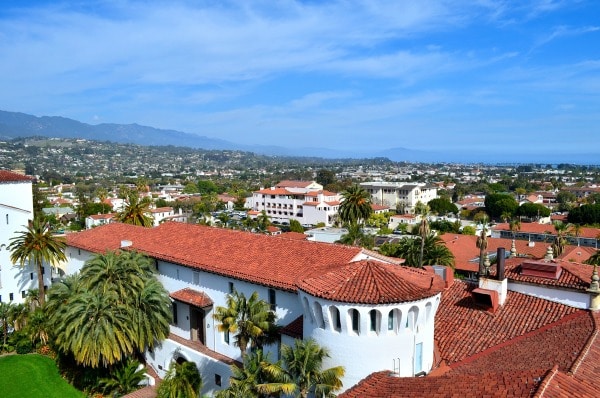 Afterward I needed a little cat nap so I headed back to my temporary home, the Hotel Indigo on State Street, downtown Santa Barbara's main drag. I admired the clever use of small spaces for intimacy and the rooftop lounge's impressive collection of local art.  I noticed that the hotel was incredibly pet friendly with guests coming and going with their little pups or relaxing in the lobby with them during the nightly Happy Hour that offers complimentary wine and cheese. The property definitely had the Urban Chic vibe down to a "t".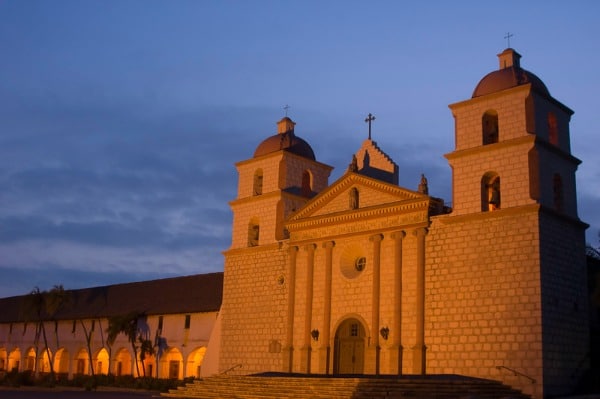 Damian Gadal
Dining choices abound in this star-studded college town. Loquita, with a decidedly Spanish influence, serves meats grilled over an open fire; my hanger steak was tender, flavorful and perfectly cooked. Seafood is artfully presented too and the cocktail list is quite a conversation piece.  Millennials and baby boomers alike ordered small plates and shared them with their companions.  After dinner, a trek up the street to McConnell's Scoop Shop for a taste of Santa Barbara's favorite local ice cream was in order.
After a long weekend in the "city" I longed to see more of the valley and ventured north and a little inland to rediscover the little Danish style town of Solvang. It had been years since I'd last visited and I soon found that the new was blending in with the old. I rediscovered familiar tourist sites and the bakeries with jam-filled pastries and rich butter cookies, hoarding plenty for later.  Nearby Solvang Restaurant on Copenhagen Drive is all things Danish and owner Jeff Paaske told me his father built many of the traditional thatched roof shops when he returned from WWII. It's the look we've come to recognize in the "Little Denmark" village. Aebleskivers (round puffy pancakes) are a typical Danish specialty and Jeff, who was born and raised here, is a master at preparing them. His well-seasoned aebleskiver pan sits atop the burner and he has the technique down for turning the pancake at just the right time. A little bit of trivia for film buffs:  Solvang was used for the restaurant scene in the movie "Sideways".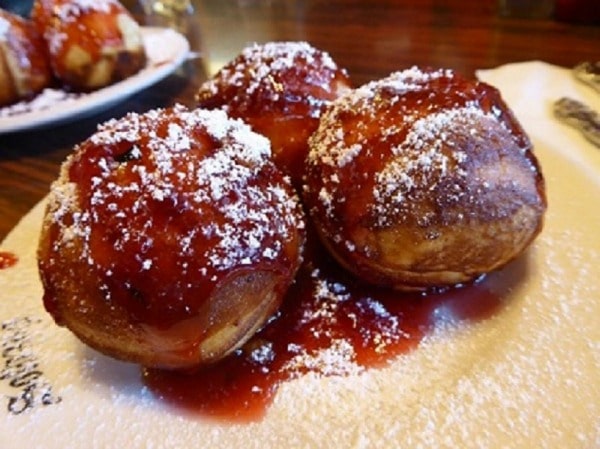 M'Liss Hinshaw

 

| Travel Squire
But yes, Solvang is changing at a rapid pace. The old town is still fascinating but a newer and modern direction is taking shape. The Landsby Hotel has sleek Scandinavian design with warm woods and its onsite restaurant Mad & Vin serves California Central Coast cuisine with dishes prepared by Chef Beto and breakfast that features fresh healthy selections. Happy hour brings in the crowds for seasonal libations in the hotel's comfortable lounge.
A French influence presides at the Mirabelle Inn and its restaurant First and Oak, which has a Renaissance feel with a dramatic stairway and crystal chandelier.  Chef Steven Snook, who was a key player in many of Gordon Ramsey's earlier restaurants, decided Solvang offered the change he was looking for. He sources everything from surrounding Santa Ynez Valley farms making elegant dishes such as a breast of duck with local peaches. The Rosenson family, who own the Inn, have put their personal stamp on everything here, resulting in an establishment steeped in tradition.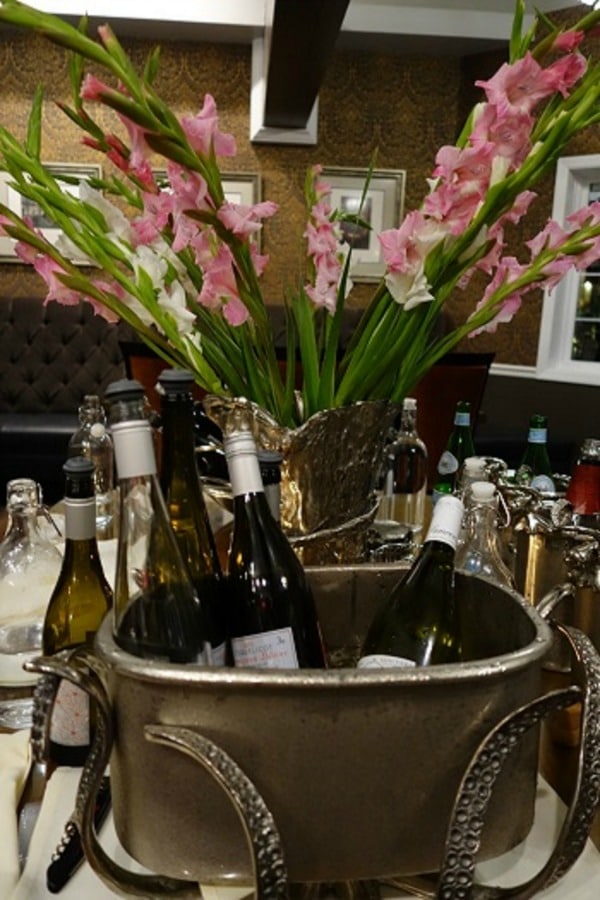 M'Liss Hinshaw

 

| Travel Squire
Just down the street is the newly opened Bacon and Brine. Chef Pink (aka Crystal De Longpre) has quite a resume, making it to the top on cooking shows like Cutthroat Kitchen. She and her partner, Courtney, left the big city to open their dream restaurant where bacon reigns supreme. Together they're at home in the kitchen as well as on the ranch, caring for and raising pigs, chickens and beef cattle, which means a menu that is decidedly pork and beef-centric. They also incorporate a "hyper-local" focus in dishes using fresh ingredients sourced within 5 miles of the restaurant. Especially popular is a Salted Caramel Donut topped with a thick slab of what else? Bacon.
An abundance of wineries dot the pastoral Santa Ynez Valley, many situated in idyllic surroundings. We were especially impressed with Stagecoach Wine Tours who whisked us around the valley to various wineries in a Mercedes van, no less. If, like me, you're a wine lover and are considering visiting both areas, skip the driving and the traffic and consider taking Amtrak. Both Santa Barbara and Solvang participate in the Car Free project which partners with local businesses that offer discounts to make your stay more budget friendly. And as these California heritage towns are both perfect weekend getaways, you're going to need the extra bucks!
Disclaimer-I was hosted by Visit Santa Barbara and SolvangUSA, but my opinions are my own
The area code for Santa Barbara and Solvang is 805.
 Where to Stay:
Hotel Indigo – 121 State St., Santa Barbara, Ca 93101, 805-966-6586; www.indigosantabarbara.com
Mirabelle Inn – 409 First Street, Solvang, Ca 93463, 805-688-1703;
The Landsby Hotel –  1576 Mission Dr., Solvang, Ca 93463, 805-688-3121;
Where to Eat:
Loquita – 202 State St., Santa Barbara, Ca 93101, 805-880-3380;
McConnell's Fine Ice Creams – 728 State St. Santa Barbara, Ca 93101, 805-324-4402;
Solvang Restaurant – 1672 Copenhagen Dr., Solvang, Ca 93463, 805-688-4645;
First and Oak – 409 1st St., Solvang, Ca 93463, 805-688-1703;
Mad & Vin – 1576 Mission Dr., Solvang, Ca 93463, 805-688-3121;
Bacon & Brine – 1618 Copenhagen Dr., Solvang, Ca 93463, 805-688-8809;
What to See & Do:
Hop on Hop Off Trolley – 1 Garden St., Santa Barbara Visitor Center; www.sbtrolley.com
Funk Zone and Urban Wine Trail – Downtown Santa Barbara; www.funkzone.net
Old Mission Santa Barbara – 2201 Laguna St., Santa Barbara, Ca 93104;
Santa Barbara County Courthouse – 1100 Anacapa St., Santa Barbara, Ca; www.sbcourts.org
Stearns Wharf – 217 Stearns Wharf, Santa Barbara, Ca; www.stearnswharf.org
Stagecoach Co Wine Tours, Inc.; www.winetourssantaynez.com
For More Information: