The Pacific Northwest has the perfect atmosphere of fresh rain and close proximity to the ocean to give Blueacre restaurant an edge when it comes to preparing fine seafood dishes.
By MLiss A Hinshaw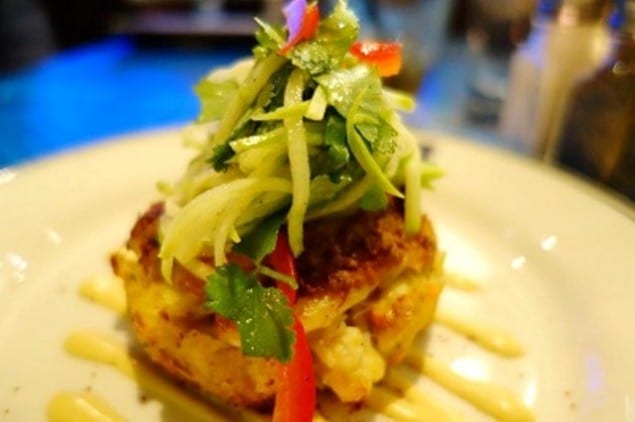 The Pacific Northwest, besides having lots of rain, has bucketfuls of fresh seafood. Enter the Blueacre restaurant in downtown Seattle, it has a tranquil oceanic feel with curved walls, panes of blue glass and flowing dining rooms. A fisherman at heart, Blueacre and Steelhead restaurants owner and Chef Kevin Davis serves a plump crab cake with pure and sweet crab topped with mirliton salad. What's mirliton? It's also known as Chayote and cooks up like a summer squash, popular in the South as pear squash. His time as a chef in New Orleans has blended well with artful taste and a distinctive crab cake. My crab cake was like a meal in itself with large pieces of crab and very satisfying.
I'm used to the typical ahi poke appetizer with chunks of ahi tuna, but Chef Davis has cornered the market. He buys grade #1 ahi tuna which is pricey but the best on the market. He whittles with his knife until all the prime ahi is stacked high and judiciously tops it with seaweed salad, pickled ginger, plus black and white sesame seeds and accented with wasabi and sriracha. A tasteful powerhouse of ahi.
Chef Davis uses no imported seafood and knows the best sustainable fishing waters for both restaurants.
His innovative kitchen skills trained a chef to become famous, but Chef keeps loyal to a calling of the Pacific Northwest. His wife and co-owner Teresa Davis, has a background in restaurant accounting and a law degree which makes their combined talents a successful team.
Blueacre Seafood
1700 7th Ave
Seattle, WA 98101
www.blueacreseafood.com
Steelhead Diner
Pike Place Market 95 Pine St
Seattle, WA 98101
www.steelheaddiner.com