The Southern Most Part of the USA
If you want to get into a lively discussion with a fellow traveler, ask where the southernmost part of the USA is located.  Many areas in the USA claim this special recognition, but at 19 degrees latitude, South Point beach on the Big Island takes the pineapple.  Known as Ka Lae, it's a National Historic Landmark District which commemorates the arrival of the Polynesians many centuries ago. It is believed they were the first Hawaiian settlers.
Driving to South Point
 Highway 11 is the main road from either Kona or Hilo to the southern part of the island. Depending on the route, designated scenic vistas of the ocean are along the two lane road. Or near the National Volcano Park and the black sand beach with green sea turtles.  Once reaching Ka Lae, spot the turn off for Southern Point Road and drive 12 miles to the end of the road where the vast ocean takes over.  Just imagine the fishermen and families living near the treacherous cliff, known for strong winds and rough ocean waters below.  Don't miss the historical sacred place of worship and to the west, the green sand beach.  Modern times have brought a windmill farm which generates electricity but it's the ancient Hawaiian times that draws the onlookers.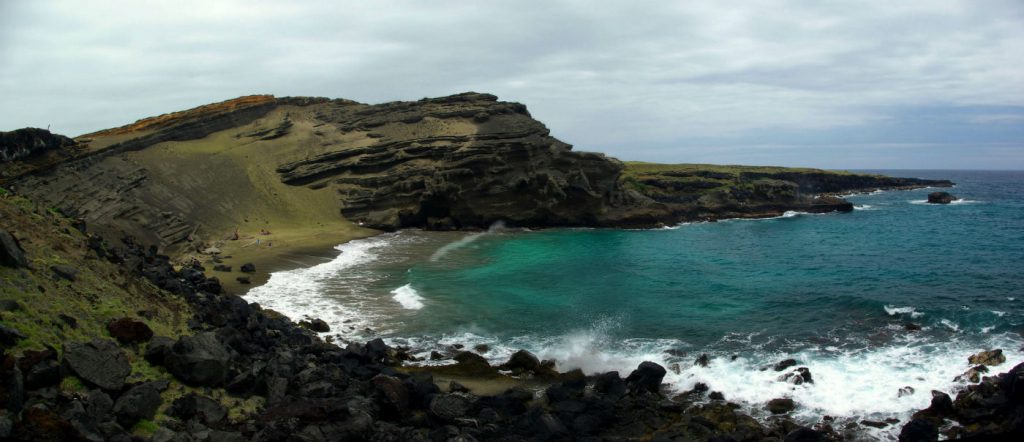 A green sand beach west of South Point-photo courtesy of David J Laporte
Let's Get a Malasada and Bread
On the way to or after a trek to the southern point, a delightful place to buy breads, cookies and sandwiches is the Punalu'u Bake Shop in Na'alehu.  Picnic tables, a small waterfall and a gazebo add to the ambiance of this popular plantation style destination. Portuguese sugar workers made their native sweetbread back in the day and it's still so popular, the bakery works day and night to keep up with the demand. Taro rolls, guava bread, pastries, and short bread cookies fill the senses. Although widely sold in grocery stores, coming to the bakery is a treat. Beautiful surroundings and heavenly aroma fill the tropical air.  I've been known to call ahead and have purple Taro rolls put on hold, and once in line to purchase, add coconut bread and a fresh malasada donut.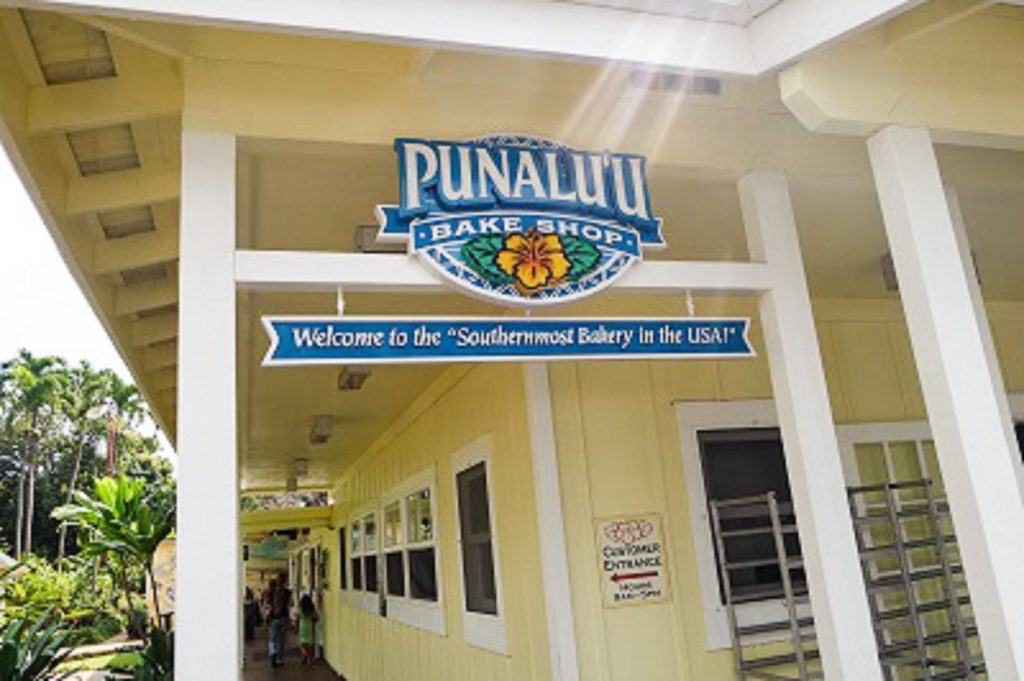 Punalu'u Bakery-photo courtesy of M'Liss Hinshaw
Grab Lunch Nearby
Too tired to drive anymore? Stay at nearby Patty's Motel with restful cabins and dine at Hana Hou Restaurant on the property. Known for homemade pies and serving all three meals, I can attest to the hogzilla burrito tasting delicious. Not surprisingly, it is referred to as the southernmost restaurant in the USA.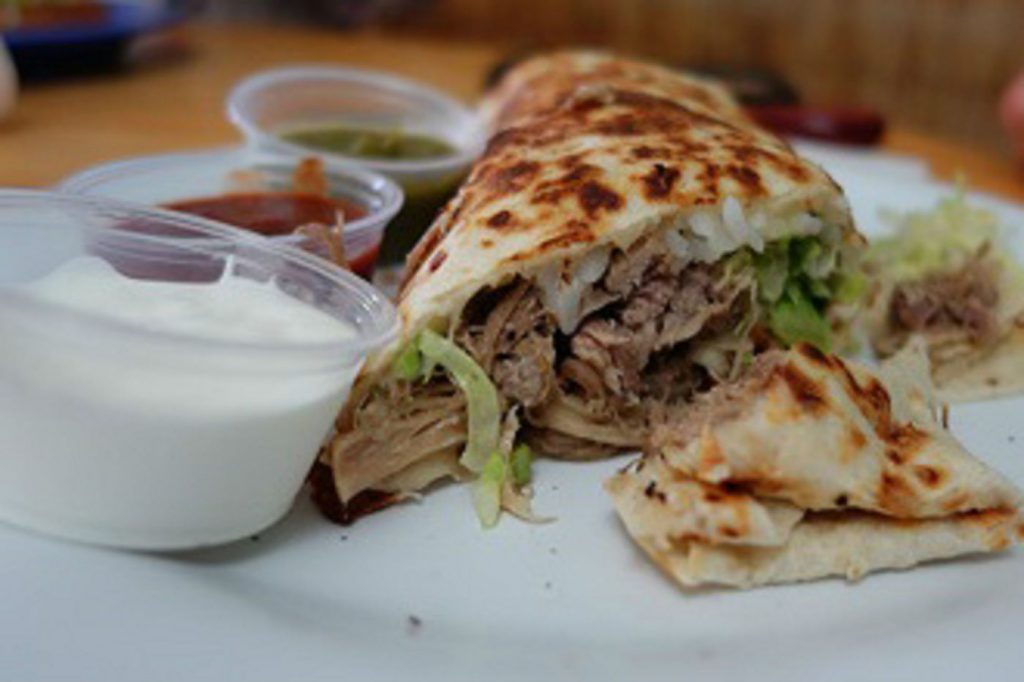 The hogzilla burrito at Hana Hou Restaurant-photo courtesy of M'Liss Hinshaw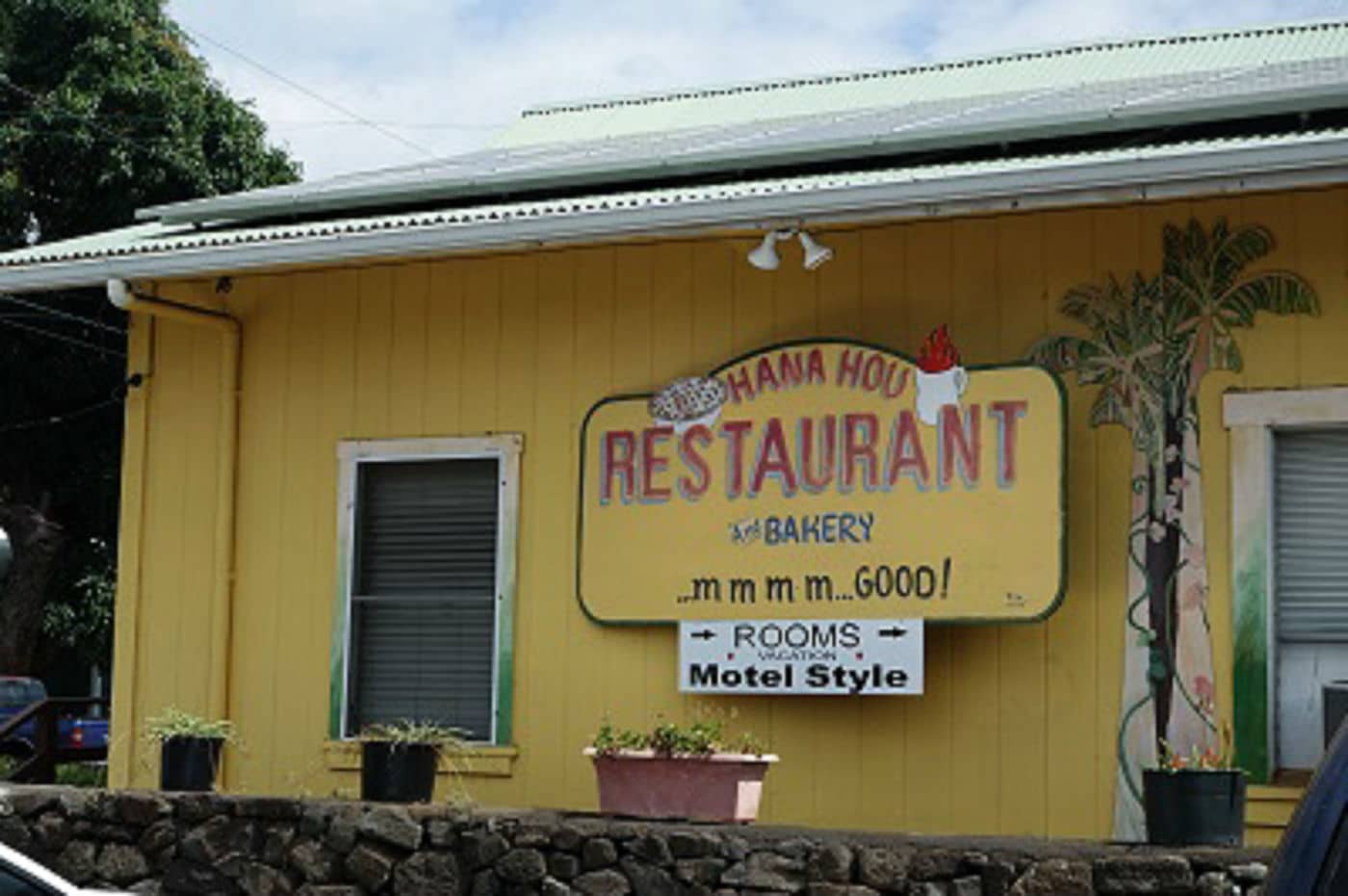 Hana Hou Restaurant at Patty's Motel photo courtesy of M'Liss Hinshaw
Punalu'u Bake Shop Visitor Center
Route 11 Na`alehu (Big Island)
Hawaii 96772
Toll Free Phone: 1-866-366-3501
Local Phone: (808) 929-7343
www.bakeshophawaii.com
Hana Hou Restaurant at Patty's Motel